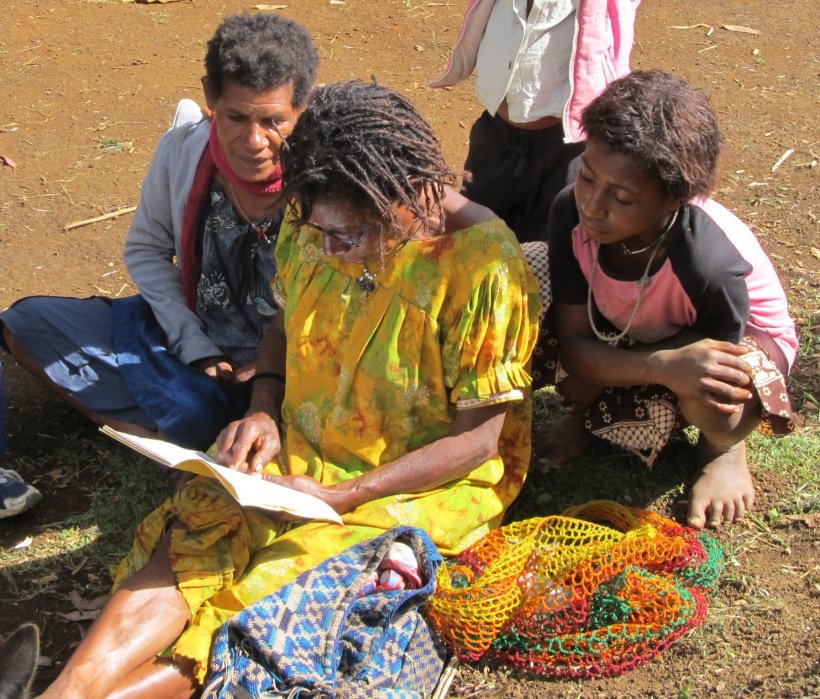 We, Levi and Robyn Lenz along with our children, are serving as missionaries with Ethnos360 (founded in 1942 as New Tribes Mission) among the North Wahgi people in Papua New Guinea. Our ministry includes developing and teaching a literacy program, Scripture translation, Bible lesson development and teaching, small group Bible studies, youth group and Sunday school program development, personal discipleship, basic medical care, ambulance service to the local hospital, as well as home-schooling our children.
In January 2012, a small church was born. Over the last 6 years we have seen God grow His Church. At times, this growth has been very slow and painful, battling attitudes of complacency and apathy toward spiritual growth and cultural and religious tradition strongholds. Religion, not the gospel, was introduced to the Wahgi people some 75 years ago. Since then syncretism, the blending of the traditional animistic beliefs and what pieces of western religion to which they have been introduced, have clouded their minds and ruled their lives believing that they are able to fulfill the requirements for their own salvation. Just as they believe(d) they could appease and manipulate the various spirits, they have now transposed that ideology onto God. The same offerings are made and the same incantations are said, only now replacing the name of the spirit with "God", without a change in understanding. We seek to combat this worldview with the Word of God through the systematic, chronological teaching of the Scriptures, small group Bible studies, and personal discipleship of believers.
As one of the facets of the church plant, our team began Scripture translation in 2011. As of April 2018, the New Testament has been completely drafted into the North Wahgi language! Old Testament portions which coincide with our Bible lessons have also been translated into the language. 59% of the New Testament has gone through the rigorous translation and checking process and has been cleared for printing. The remaining 41% is at various stages in the translation process.
While Scripture translation is a vital part of the church plant, it requires literate people to read it. Our team has developed a literacy program to teach those with little or no education how to read and write in their own language. However, many people fail to see the necessity in becoming literate as they haven't had the need to read in the past. We challenge the church that the ability to read is vital for the church to be able to grow in their personal walk with the Lord and also to compare false doctrine against Scripture. Please pray for faithful students as well as a few faithful men or women to take over the role of teaching literacy classes and Bible teaching.
We are thankful for FBC Bolivar's corporate and individual partnership in this ministry. Please consider adding "Lenz's View" as a Facebook friend or writing us at levi_lenz@ntm.org in order to be able to follow the North Wahgi church planting ministry.
Praise & Prayer Points for the Ministry of Levi and Robyn Lenz- serving among the N. Wahgi people of Papua New Guinea:
Our Team: Dan & Rachel Hulley and their children Ben (15), Georgia (12) & Rebekah (9)
Ø Dan & Rachel will be assisting in a leadership role until January 2019, which will have them living out of the village for the duration of this year. Pray for them as they try to balance their roles with on-site and off-site ministries as well as their children's personal and education needs.
Ø Ben will be living out at our headquarters to attend the MK school there. He will be staying with another missionary family during this time.
Ø Georgia will be working towards her British GCSE Exams through an on-line curriculum. Pray for good internet access as it can be unreliable here.
Ø Rebekah will be attending a partial year at the MK school and then will transition back into homeschooling in the village when her family returns January 2019.
1. Please pray for team unity as we try to balance our ministry and relationship in these unique circumstances that we now find ourselves.
2. Pray for us as we consider seeking to add another unit or two to our team. Pray for God to lead clearly if this is what He has for us to consider.
3. Please pray for all of our families overall health and safety.
Our Family: Levi (2/12) & Robyn (5/23) (Anniv. 8/31/2002), Michael (12yrs-10/11/05), Daniel (10yrs-9/10/07), Matthew (7yrs-11/4/10) & Krystiana (3yrs-7/23/15)
4. Homeschooling our children.
· Praise: God has provided two young ladies to come and help with taking on our kid's education for the 2018-2019 school year!!
· Please pray for Megan and JoHanna as they adjust to a new 'world' around them and assist us in this very important task.
· Pray for our boys as this will be new for them to have someone other than mom teaching them.
· Pray that the specific areas that they have struggled with in years past will be significantly strengthened with having more focused attention in order to help them succeed with their schooling needs.
5. Please pray for our eldest, Michael, as he will be attending a Christian School stateside this year for 7th grade and will be staying with Robyn's parents in Michigan.
· Praise: God has provided the financial aid that was necessary for Michael to be able to attend this wonderful family-based school!
· Please pray for his spiritual maturity and growth, for him not to be homesick, and for him to develop some wonderful friendships with godly peers.
· Please pray for Bob and Karen Damaske (Robyn's folks) as they have so graciously volunteered to take this new role on and the delicate balance of being grandparents and 'parents' for this season and all that it will entail.
· Pray for Michael's mind to be protected and guarded from the evils of this world.
6. Pray for Robyn as she re-engages in her culture and language studies in order to become more fluent in the Wahgi language. This is pretty daunting as she has had to put it on hold for 7 years in order to homeschool our children.
7. Pray for Levi and Dan as they continue to work towards finishing up the translation of the Bible.
· Pray for the Translation team of believers. For their faithfulness and obedience to the Word of God in their lives and work.
8. Pray for us to have wisdom in what we pour our hearts and energy into each day.
9. Pray for strength and energy to live as Christ's hands and feet among these precious people.
10. Pray for us to decipher what life-on-life discipleship looks like in a culture different than our own.
11. Pray for us as we seek to develop more Bible education resources such as a marriage and pre-marriage counseling, financial stewardship, and parenting courses.
12. Pray for the North Wahgi Literacy program.
· Pray for a hunger to learn!
· Pray for faithfulness by both the students and the teachers
· Pray for the older students as many of them are learning how to read and write for the first time and they are 40 and up in age.
· Pray for God to show Himself as He uses His Word to transform lives from the inside out!
13. Pray for the North Wahgi believers.
· Pray for their marriages and families.
· Pray for each believer to personally own their faith.
· Pray for the believer's to see their role in the Great Comission and have a burden for sharing the Gospel with their own people and beyond!
14. Pray for On-going Bible teaching outreaches.
· Pray for the minds and ears of those that are hearing the on-going Bible outreaches to understand the Gospel and turn their hearts towards Jesus!
· Pray for more Bible teachers to be raised up.
15. Pray for God to equip and prepare the future elders and deacons of His church here in Wahgi.
16. Pray for our families back home in the States as they continue to sacrifice being a part of the everyday lives of their children and grandchildren for the sake of the Gospel.